Jump into spring with this fresh Greek flavored take on a traditional pasta salad!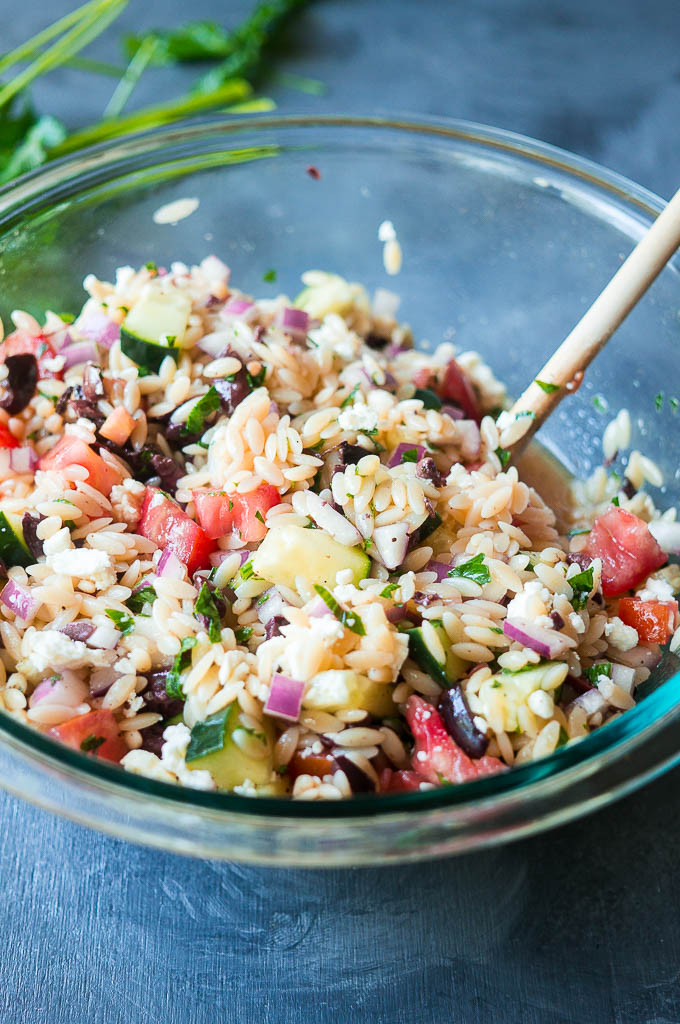 I'm back home this week and trying to get back into the swing of things. Of course when we got home we had things in our fridge like 1 green bell pepper, a jar of olives, half a carton of half and half, and a little almond milk. Instacart to the rescue! If you haven't heard me dote on this service yet, well, it might be the best thing that's happened to me. I spent a few minutes the night we got home "grocery shopping" in my pj's and then groceries magically showed up the next morning!
My only regret with my menu planning this week is that it's not including THIS amazing pasta salad that I made before we left on our trip. I absolutely love the little bits of orzo all coated in a tangy greekish italianish homemade dressing and mixed up with crunchy bits of fresh veggies. If you're looking for a fun way to spice up your easter lunch this Sunday, I think this recipe would be a great idea!
Greek Orzo Pasta Salad
Ingredients
1 cup dried orzo pasta
1 medium sized cucumber, chopped
2 medium sized tomatoes, chopped
1 small red onion, finely chopped
½ cup chopped, pitted, kalamata olives
¼ cup fresh chopped parsley
½ cup crumbled feta cheese
Dressing
¼ cup extra virgin olive oil
¼ cup red wine vinegar
1 tablespoon fresh lemon juice
1 teaspoon honey
½ teaspoon garlic powder
½ teaspoon freshly ground black pepper
1 teaspoon kosher salt
Instructions
Cook orzo to al dente according to pasta directions in well salted water.
While pasta is cooking, whisk together dressing ingredients in large bowl.
Add veggies to dressing and lightly toss.
When pasta is done cooking, rinse in cold water and drain well.
Add pasta to veggies and dressing, stir well, then top with feta cheese.
Refrigerate until ready to serve!
7 Day Pressure Cooker Meal Plan!
Sign Up for 7 Dinners, 1 Dessert, 1 Breakfast, and a Complete Shopping List!