Pressure Cooker 5 Ingredient Broccoli Cheese Soup in 10 minutes is ultra easy and lighter than the traditional version!
Recipes that only need 5 ingredients and can go from the fridge to a bowl on the table in less than 10 minutes is where I find myself hanging out these days. If I'm honest with myself, even though I try every way I know how to slow down in the holiday season, it's just hard. Really hard. But, one way I can buy back some time for myself is to make simple dinners. Things like this 5 ingredient broccoli cheese soup in my pressure cooker is where it's at!
Broccoli cheese soup hasn't sounded appealing to me in the past, but when I came across this recipe from Gimme Some Oven, I realized that it didn't always have to be the consistency of velveeta and full of butter and flour. Her version was just what I needed to be convinced to give it another try – light, simple, and yummy!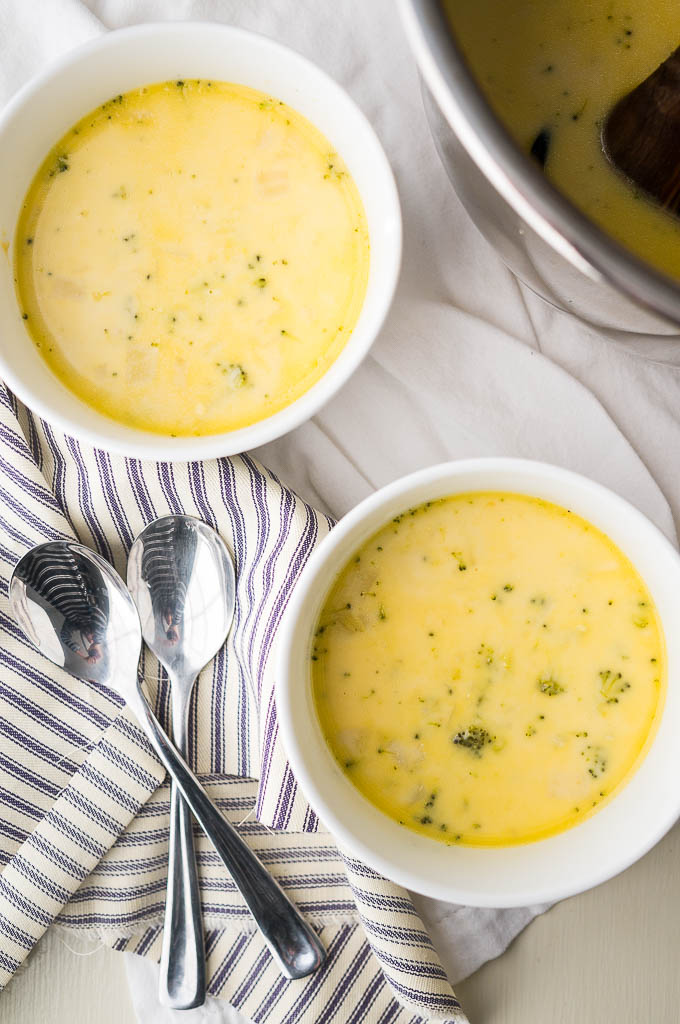 A lot of people come to me confused about the cook time when using their pressure cooker. They see the cook time listed on a blog or in a cookbook as one thing, but by the time their cooker comes up to pressure, actually cooks, then releases the pressure, they find that the cook time is almost doubled! Yes, that's true, but during that time there's absolutely no stirring, no checking the temperature, no poking or testing the food, and no running back and forth managing multiple dishes. It's really the least hassle I've ever encountered in the kitchen. Once you do your initial prep, lock the lid, and set the time, your mind and hands are free to do whatever you'd like until the pot dings signaling the end. I don't think the electric pressure cooker is a trend that's coming and going anytime soon with how user friendly and fantastic everything about it is!
With all my recipes, if you make it, be sure to tag me on instagram or facebook so I can see your lovely creation!
Pressure Cooker 5 Ingredient Broccoli Cheese Soup
Prep time:
Cook time:
Total time:
Ingredients
1 tablespoon olive oil
1 yellow onion, diced
2 small heads broccoli, roughly chopped
4 cups chicken broth
1½ teaspoons salt
½ teaspoon pepper
1, 12oz can evaporated milk
8oz sharp cheddar cheese, grated
Instructions
In your pressure cooker, saute onion in olive oil for 4-5 minutes.
Add broccoli, chicken broth, and salt and pepper.
Stir, lock lid, and set to high pressure for 5 minutes.
When time is up, do a quick release, then turn onto the simmer setting and add evaporated milk.
Stir gently and add grated cheese, small handfuls at a time, until all cheese has been added and has melted.
Ladle into bowls and serve by itself or with crusty dipping bread.
7 Day Pressure Cooker Meal Plan!
Sign Up for 7 Dinners, 1 Dessert, 1 Breakfast, and a Complete Shopping List!