Uncategorized
Start Your Dream Blog in 5 Easy Steps!
Today's the day! You've been dreaming about starting a blog for months and decided that it's finally time to just go for it. The good news is, it's actually not that hard! After a few simple steps that I'll walk you through below, you'll be all set up and ready to start sharing your awesome content with the world.

I was in your same shoes almost 2 years ago. I had an idea that I wanted to start sharing recipes and photos of the food I was making in my kitchen, but I had no idea where to start. There were quite a few blogs I had followed for awhile and I ended up stumbling on some really good posts that showed me how simple and straightforward starting my blog could be!
I followed a series of simple steps and less than an hour later, I had a skeleton of my first official blog, Kitschen Cat. Once you get your blog set up, there is a good amount of work to be done, but the initial set-up is actually quite speedy.
Let's get right to it!
#1. Choose a Domain name and check to see if it's available.
I recommend visiting Bluehost to check on your domain. If it's available, it will congratulate you and allow you to move forward in the process, if not, it will ask you to try another name. Make sure you've thought about your desired name before you get to this first step!

#2. Choose your plan
I set up my hosting with Bluehost because of 2 reasons. They have fantastic customer support and you get a FREE DOMAIN when you sign up with them!! The basic hosting plan with them is only $3.95/month if you use THIS LINK, but you do have to pay for the whole year up front in order to claim that deal. It's totally worth it though because it saves you money in the long run.

After you select your plan, you'll be prompted to fill out your account info and then select any add-ons you might want. I recommend selecting the Basic 12 month plan as well as domain privacy protection. The other add-ons are up to you, but I've found some other plugins through WordPress that I like to use instead.

#3. Install WordPress
After you have purchased your domain, log into Bluehost, scroll about halfway down the page, and click on "Install WordPress".

Next it's going to ask you if you want to install it yourself or if you want help. Have faith in yourself!! I'll be here helping you all along the way 🙂 Click on "install" under the do it yourself section.
You'll be brought to a screen where it asks you which domain you'd like to install WordPress to. Unless you've purchased multiple domains through Bluehost, you'll probably only have 1 option in the dropdown menu. Select that one and click "Check Domain".

Remember to check the terms and conditions and then click "Install Now!" It will take a few moments to install and then you'll get the beautiful screen that says, "Congratulations! Access your new WordPress site".
P:S: Be sure to write down your Admin URL, Username and Password in order to log in. You'll definitely need those and don't want to spend time searching all over for them.
Type in your admin URL into your web browser, log in using the credentials you wrote down a second ago, and voila! You're done!! Now for the fun stuff 🙂
#4. Pick a design
WordPress has some great free designs that you can use to get started, but if you can see yourself wanting to grow the blog and look somewhat official, I'd suggest purchasing a blogging foundation like the Genesis framework. This will allow you to build your website quickly and easily, and have more freedom to customize whatever you would like.
If you want to start making your website pretty, I highly recommend checking out Restored 316 themes. I built Kitschen Cat using the Divine Theme and Lauren over at Restored 316 has so many more beautiful themes to get you started! She also has great tutorials in her full setup and support section that come in SO handy when you're customizing your site.


#5. Find a blogging community
This tip isn't necessarily mandatory in the "How to Start a Blog" tutorial, but once you get up and running, I highly recommend finding a group of other like minded bloggers to learn from and bounce ideas off of. I joined a community called Food Blogger Pro and it was invaluable in helping my kickstart my blog.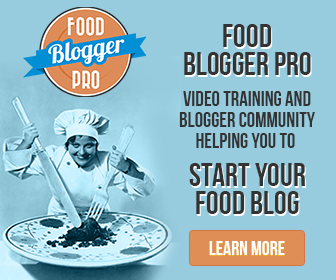 As I write this post, they are currently accepting bloggers to join the waiting list and then will begin an open enrollment period later on this year. It's totally worth it and I highly recommend checking it out if you're looking for more help as you start your blogging journey!
Disclaimer: Please note that some of the links above are affiliate links and I will earn a commission if you purchase through them.