Kid friendly
5 Ingredient Pressure Cooker Cheesy Egg Bake
Cheesy, delicious, and hearty, this amazing 5 Ingredient Pressure Cooker Cheesy Egg Bake can be on your table in only 30 minutes!

Lately I've been all a mix of emotions around this blog. I'm having a hard time making peace with the fact that I may be plugging along at the pace I'm going right now for another 3-5 years before I see anything come from it. It's caused me to ask myself if it's really worth it and I've had several heart moments that seem to keep pushing me forward. I feel like I'm in a season of waiting right now, not just with the blog, but with other things in my life right now. It feels like a time where I need to keep putting forth effort every day and trust that it will bring about change for the better.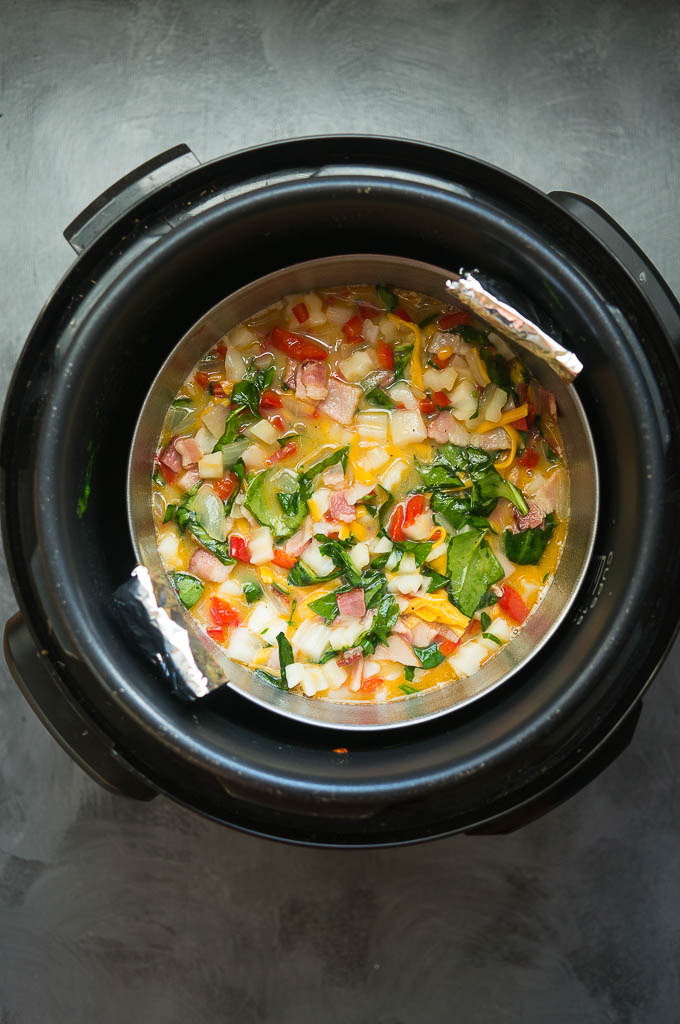 Most days I absolutely love getting to work from home, and feel so privileged that I get to do so. Airbnb and my job working as an author's assistant have allowed me to do that, but I know those things might not last forever. So, then what? I've been asked by many of you how the blog is doing, which I usually take to mean as, "are you making money from that thing yet?" Right now, no, but I have to keep reminding myself that the skills I've learned in the past year have been invaluable.
A year ago, my photography was looking like this, and I had no idea what the word "monetizing" meant, or how to read a heatmap, or how to build my own wordpress site, or even how to write a decent post! I'm still so far from where I want to be, but every once in awhile it's so crucial to remind myself what the journey has produced, rather than always focusing on the end goal. Rome wasn't built in a day, right?
I hope this is an encouragement for anyone who is feeling stuck and wondering whether it's worth it. I think it is!! I think it's totally worth it. Even if you get to the "end" with less success than you originally hoped for, the experience of the process itself most likely taught you way more than you ever could have imagined. It's really easy to look at successful people in your industry and think that they got there overnight. It's not true. There are 3 food bloggers that I follow pretty regularly and they're all pushing about 9 years of doing this thing! 9 years of growth, challenging themselves, continuing even when it seems counter cultural, waking up and choosing to work hard every day, and believing that the end goal will be all worth it. That's my inspiration when I feel like quitting. It's just going to take time.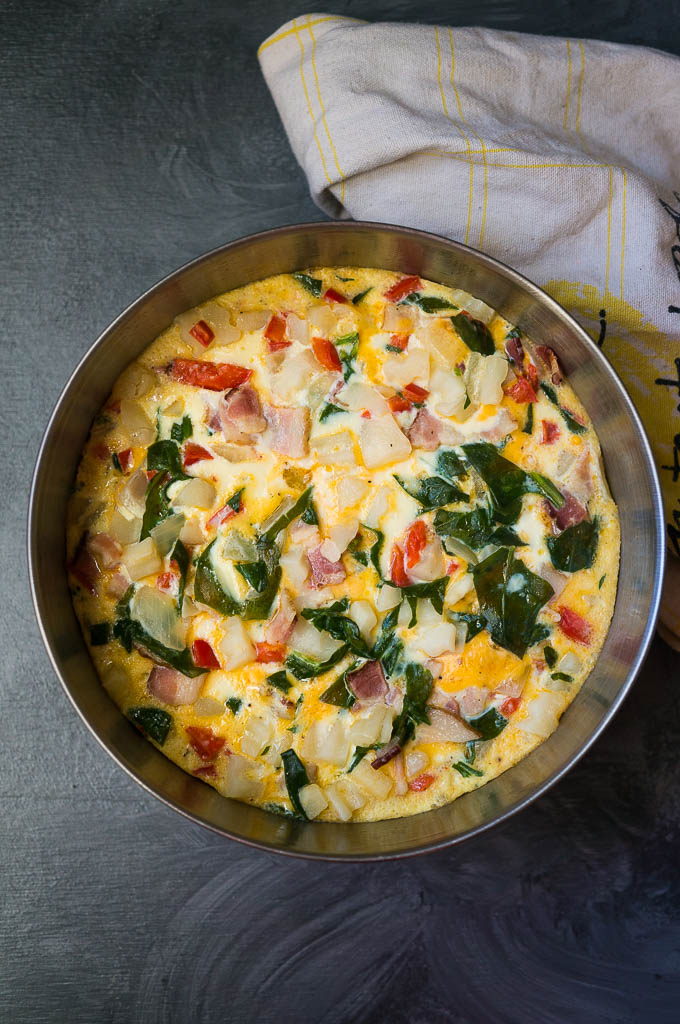 Aaaand that concludes my sermon for the day 🙂
HOW ABOUT THIS EGG BAKE??? Once again, the pressure cooker wins big.
I started by chopping up the bacon and cooking it right in the pressure cooker on the saute setting. Once it was crispy, I added frozen hash browns (and optional chopped veggies) and cooked for 2 minutes just to slightly thaw them and soften the veggies. Lastly, I beat my eggs with the milk, shredded cheese, and salt and pepper, then poured that into a greased metal bowl that fits inside my pressure cooker. I mixed my bacon and hash brown mixture into the eggs and then placed the whole bowl on top of a trivet in the pressure cooker. *Don't forget to add a cup of water to the bottom of your pressure cooker or you'll have some troubles!
The lid then goes on the pressure cooker and cooks on high pressure for 20 minutes with a quick release. I loosened the edges then tipped it out onto a plate and topped with green onions and some extra cheese! If you want to stay nice and simple, just stick with the 5 basic ingredients. If you want to add a little extra oomph, spinach, red pepper, onion, and mushrooms would all be great options.

I love how this looks like a big deep dish pizza and it's a snap to serve! Cut into big pie wedges and dig in 🙂

Thrive Market is my favorite option for organic, healthy food delivery.


My favorite source for fruits and veggies delivered to my door is Imperfect Produce!
Print

5 Ingredient Pressure Cooker Cheesy Egg Bake
---
Author:

Total Time:

25 mins

Yield:

4
Description
*Recipe edited on 11.13.17
---
6

slices bacon, chopped

2 cups

frozen hash browns

6

eggs

¼ cup

milk

½ cup

shredded cheddar cheese

1 teaspoon

kosher salt

½ teaspoon

pepper
**optional add-ins: onion, red pepper, spinach, mushrooms, green onions
---
Instructions
Chop up bacon into small pieces then saute in pressure cooker until crispy.
Add in any extra veggies that you would like and saute until tender, about 3 minutes.
Add in frozen hash browns and stir until slightly thawed, about two minutes.
Grease a heat proof container that will fit into your Pressure Cooker. I used a round metal bowl.
Whisk together eggs, milk, shredded cheese, and salt and pepper in a separate bowl and then add bacon and veggie mixture to the eggs.
Pour the egg mixture into your greased, heat proof container.
Pour 1 ½ cups of water into your pressure cooker and set trivet inside. Place heat proof bowl with egg mixture on top of trivet.
Lock lid and set to high pressure for 20 minutes with a quick release at the end.
Loosen edges then dump out onto large plate.
Serve with green onions and extra shredded cheese!
Prep Time:

5 mins

Cook Time:

20 mins
---
Other Pressure Cooker Egg Recipes You'll Love!
Pressure Cooker Sausage And Egg Breakfast Tacos
Pressure Cooker 5 Ingredient Breakfast Sandwiches
---