Non Pressure Cooker
Ricotta and Spinach Calzones
A cheesy ricotta and spinach vegetarian calzone to substitute into your pizza routine!

Friday! We made it! I've been a total slacker on posting lately – I don't know what happened, but we all of a sudden got wayyy busier than we've been since we moved to Austin. I think it's good though. We needed a bit of a break after moving to get settled and just take a breath, but now we're back into the craziness of life and loving it. Well, most of the time. Just not when I don't get to talk to you guys for a week because I have a hard time finding a few minutes to post these beauties!

If you read my last post or follow me on Instagram, you'll know we did a 10 day cleanse that ended a few days ago in an effort to reset our eating habits and cleanse our system. We've done this same cleanse 4-5 times now and every time I absolutely love it! I regain energy, get back into the habit of drinking lots of water, lose some of my crazy cravings for sweets, and as a bonus, shed a few pounds! We also made a few decisions after ending the cleanse.
#1. We eat as healthy as we can during the week and we allow ourselves some splurges on the weekends.
#2. We're going back to not buying meat. We're at a stopping point right now where we feel uneasy about eating meat that isn't responsibly raised and we don't quite have the grocery budget to buy farmers market/local meat on a daily basis, so that means we just do without!
So, the plan is that we'll eat vegetarian during the week and then on the weekend have our splurge meal with some fresh, local meat. It's a happy compromise for our bellies and our wallets.

Okay, these calzones. I mean, come on, don't you just wanna pop the whole thing in your mouth?? I love checking out new cookbooks from our local library and since I need some more vegetarian recipes, I just had to try America's Test Kitchen "The Complete Vegetarian Cookbook". I used my favorite pizza dough recipe and stuffed them with all the yummy ingredients they recommend and they turned out perfectly! I'm in complete favor of the meatless calzone because you don't get all the unnecessary grease from the meat soaking into your calzone bread — it's just a lighter, but still filling meal!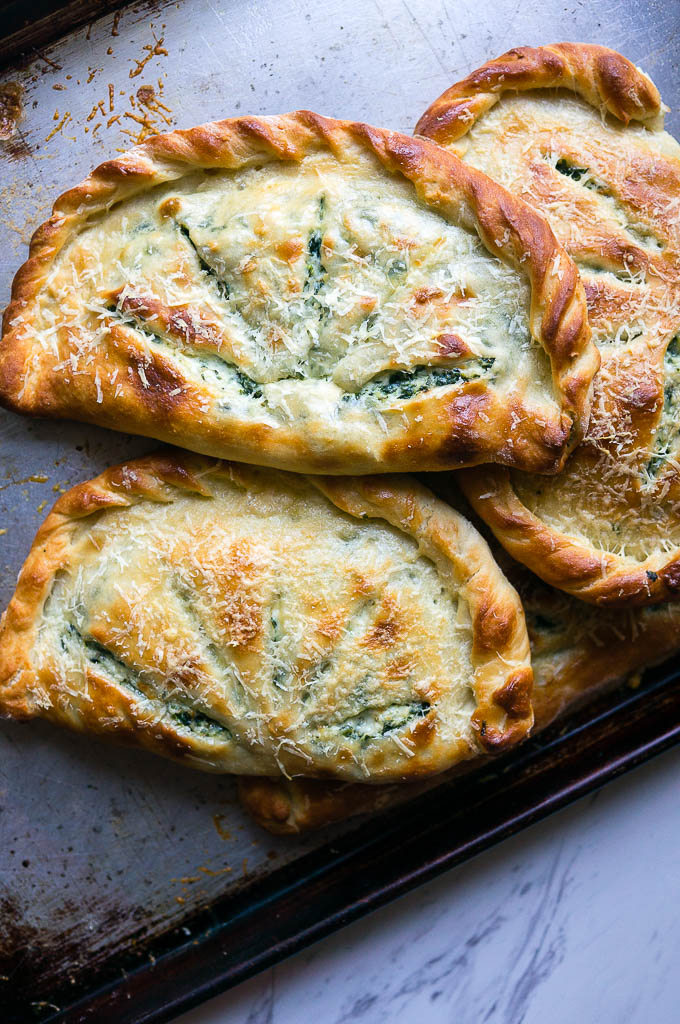 Bon Appetit and Happy Friday!!


Thrive Market is my favorite option for organic, healthy food delivery. Use my promo code to get $20 OFF your first order! (affiliate)


My favorite source for fruits and veggies delivered to my door is Imperfect Produce! Here's $10 to shop and create your Imperfect box today. (affiliate)
Print

Ricotta and Spinach Calzones
---
Author:

Total Time:

30 mins

Yield:

4

1

x
---
10 ounces

frozen chopped spinach, thawed and squeezed dry

8 ounces

ricotta cheese

4 ounces

mozzarella cheese, shredded

1 ounce

Parmesan cheese, grated

1 tablespoon

olive oil (affiliate)

1

large egg, lightly beaten with 2 tablespoons water, plus 1 large egg yolk

1 teaspoon

garlic powder

1 1/2 teaspoons

minced fresh oregano

1/8 teaspoon

red pepper flakes

1 teaspoon

salt

1

lbpizza dough
---
Instructions
Preheat oven to 500 degrees.
Combine spinach, ricotta, mozzarella, oil, egg yolk, garlic powder, oregano, pepper flakes, and salt in a large bowl.
Place dough on lightly floured surface and divide into 4 even pieces.
With a rolling pin or your hands, flatten each piece into a 7 inch round on a piece of parchment paper.
Spread 1/4 of spinach filling evenly over half of each dough round, making sure to leave a 1 inch border around the edge.
Brush the edges with the egg wash and then fold the other half of the dough circle over spinach mixture, leaving the bottom 1/2 inch border uncovered.
Press edges of dough together and pinch with fingers to seal.
With a sharp knife, cut 5 steam vents in top of calzones and brush tops with remaining egg wash.
Transfer calzones onto parchment lined baking sheet and bake for 8 minutes, brush with any remaining egg wash and sprinkle with grated parmesan, then bake for another 7 minutes.
Move to wire rack and let cool for 5 minutes before serving.
Prep Time:

15 mins

Cook Time:

15 mins
---
Other Ricotta Recipes You'll Love!
Fusilli With Ricotta And Spinach
Pressure Cooker Vegetarian Lasagna Roll-Ups
---