Non Pressure Cooker
Black Bean and Sweet Potato Quesadillas
Black Bean and Sweet Potato Quesadillas. Healthy vegetarian quesadillas jam packed with sweet potatoes, black beans, and creamy cheese!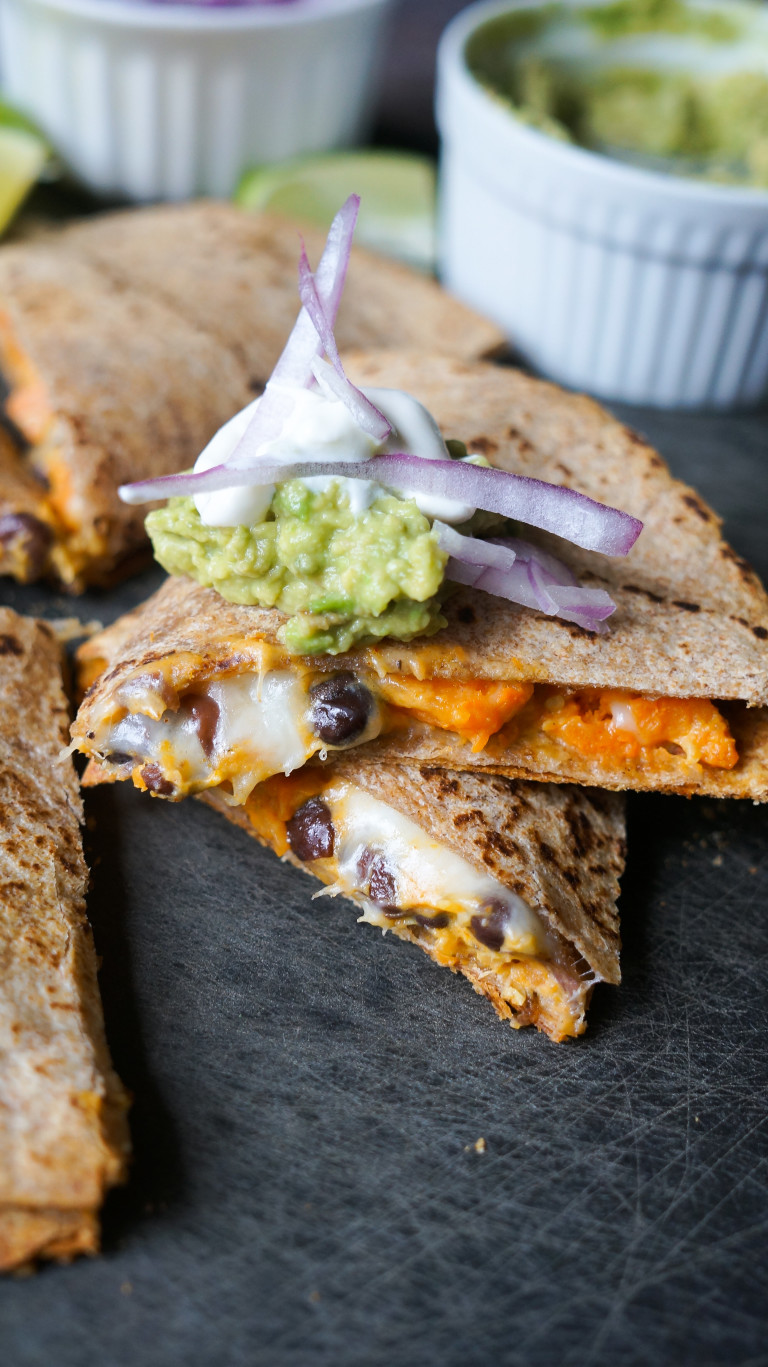 This weekend was seriously a blast. For anyone who actually knows Kevin and I, you know that we're both pretty old souls. It's a miracle if we're out past 10pm and an even bigger miracle if we were doing something more exciting than just going to dinner. This Friday we put on our big boy pants and forced ourselves out of the house at 9:30pm. Yes, we LEFT the house at 9:30pm.
We've been slowly trying to work our way through Austin, one restaurant and one must-do at a time, but we hadn't been on the East side much yet, so Friday we ventured over there! I'm kind of a crazy planner lady so it's rare that we leave the house without a plan, but this time we did. We knew we wanted to go somewhere with music (which is pretty much everywhere in Austin) and we knew we didn't need food (because we had just eaten these glorious quesadillas). So, we just started driving around with our windows open so when we heard some music we liked we could pull over!
Our travels eventually led us to the White Horse and we had an awesome time listening to a bluesy, honky tonk female artist and watching all the 2 steppin' people. I even found out they teach free 2 step lessons on certain days of the week so we're definitely going to hit that up!

These Black Bean and Sweet Potato Quesadillas have made their appearance 4-5 times in the last two months. We can't get enough of them and Kev has told multiple people that he likes them better than quesadillas with meat!
I've also made them in enchilada form and that's a great option too. I absolutely love sweet potatoes, but they always have to be spiced and on the savory spectrum. If you bring sweet potatoes with marshmallows and pecans to Thanksgiving dinner, I'll gobble them up, but I consider them a delicious dessert, not a side dish. These amply spiced savory quesadillas, however, have made it onto my recipe repeat list, which is quite an accomplishment as I don't generally like remaking recipes very often.

On Saturday, we started the morning by checking out a local farmers market then making the drive out to Fredericksburg, which is a little town a few hours west of Austin that's full of lots of cute shops, restaurants, and German beer gardens. On our way to the actual town, we stopped at the Fredericksburg Trade Days, a flea market in the middle of a giant field that was the most Texafied (yes, I'm making that a word) place I've been to since moving. Cast iron everything, leather holsters for your pistols, and jeweled pearl snapped shirts galore. If we hadn't yet realized that we've officially moved to Texas, it was made so clear to us at the Flea Market.

We're both mildly obsessed with these quesadillas and think they would be a great addition to your weekly meal plan!

Print

Black Bean and Sweet Potato Quesadillas
---
Author:

Total Time:

20 mins

Yield:

4

large quesadillas

1

x
Description
Black Bean and Sweet Potato Quesadillas. Healthy vegetarian quesadillas jam packed with sweet potatoes, black beans, and creamy cheese!
---
Quesadillas
2 tablespoons

olive oil (affiliate)

1

large sweet potato (about

3 cups

chopped)

1

15 oz can black beans (affiliate), drained

½ teaspoon

cumin (affiliate)

½ teaspoon

paprika

1/2 teaspoon

cayenne

1/3 cup

salsa verde (affiliate)

4 oz

cream cheese
Salt and pepper to taste

8

whole wheat tortillas

1 cup

cheese (cheddar, colby jack, or monterey jack)
Toppings
1/4 cup

finely chopped red onion
Sour cream
Avocado
Limes
---
Instructions
Peel and chop sweet potato into small bite sized pieces.
Heat olive oil in large skillet over medium high heat and add sweet potato.
Saute for 5-10 minutes with lid on until potatoes can be easily pierced with a fork. Add black beans and spices.
Add salsa verde and cream cheese and stir mixture until cream cheese is fully melted.
Preheat oven to 450 degrees and spray large baking sheet with cooking spray.
To assemble quesadillas, place tortillas onto baking sheet and spread with sweet potato filling. Sprinkle with grated cheese and top with tortilla.
Bake in preheated oven for 5 minutes until tortilla edges start to get crispy.
Top with onion, sour cream, avocado, and a squirt of lime juice.
Notes
Disclosure: This post contains affiliate links, meaning I get a commission if you decide to make a purchase through my links, at no cost to you.
Prep Time:

15 mins

Cook Time:

5 mins
---
Other Quesadilla Recipes You'll Love!
Mushroom And Zucchini Quesadillas With Chipotle Cream
Breakfast Black Bean And Egg Quesadillas
---